28. TAFISA World Congress alongside with INTERACT+ Partner Meeting in Düsseldorf, Germany – Capacity Building Workshop for Flying Disc Federations on December 7 and 8, 2023, in Linz, Austria
Two days before the official start of the 28. TAFISA World Congress end of October 2023 an INTERACT+ partner meeting was held in the Düsseldorf Hilton Congress Centre. Participants of the different project member organisations met under the lead of TAFISA, The Association For International Sport 4 All. The project is funded by the European Erasmus+ Programme and aims at sport organisations activating citizens.
The INTERACT+ project is designed for 36 months (January 2023 – December 2025) and is a successor project of the Erasmus+ funded project INTERACT (January 2021 – December 2022). There, several achievements already have been reached, like a pledge, a directory, a good practice example platform extended to a toolkit covering various target groups, purposes, types of venues, and scopes of projects. The INTERACT+ project aims at capacity building by offering workshops, researching literature for making the case, and developing an INTERACT+ label.
Still after the end of this project this label or certificate shall prove an association's effort concerning S4A initiatives, events, or programmes in five levels with a low entry point. Following the pathway of this project there will also be another train the trainers' course to empower interested partners, especially from the project's advisory board associations that also want to advance to present the INTERACT+ Capacity Building Workshop.
The next Capacity Building Workshop beginning of December 2023 in Linz, Austria, is dedicated to upcoming Sport 4 All leaders from Flying Disc and Fistball associations from acrosse Europe. This will be a low-cost opportunity to learn from others and enlarge the range of your activities in favour of gaining more members. The workshop itself is cost-free. The only costs arising are travel costs as well as those for accommodation and full board from Wednesday evening, December 6, to Friday noon, December 8, 2023, with 160 Euros in total.
If interested please contact Jörg Benner at geschaefte[at]frisbeesportverband.de. After that one five more Capacity Building workshops for representatives of different sport associations will take place, both, on site and online, before the end of 2025. For the exchange of all sport managers the INTERACT+ forum has been launched you find on top of the page https://interact-sport.com.
In the various sessions during the 28. TAFISA Congress in Düsseldorf many very interesting topics were covered, from practice examples to questions concerning Sport and Planetary Health, World Health Development and next actions necessary for "Leveling the playing field". Also, the project partners were able to present one session dedicated to the INTERACT+ project dealing with the question: "How can International Sport Organisations bridge the Gap with grassroot sports?"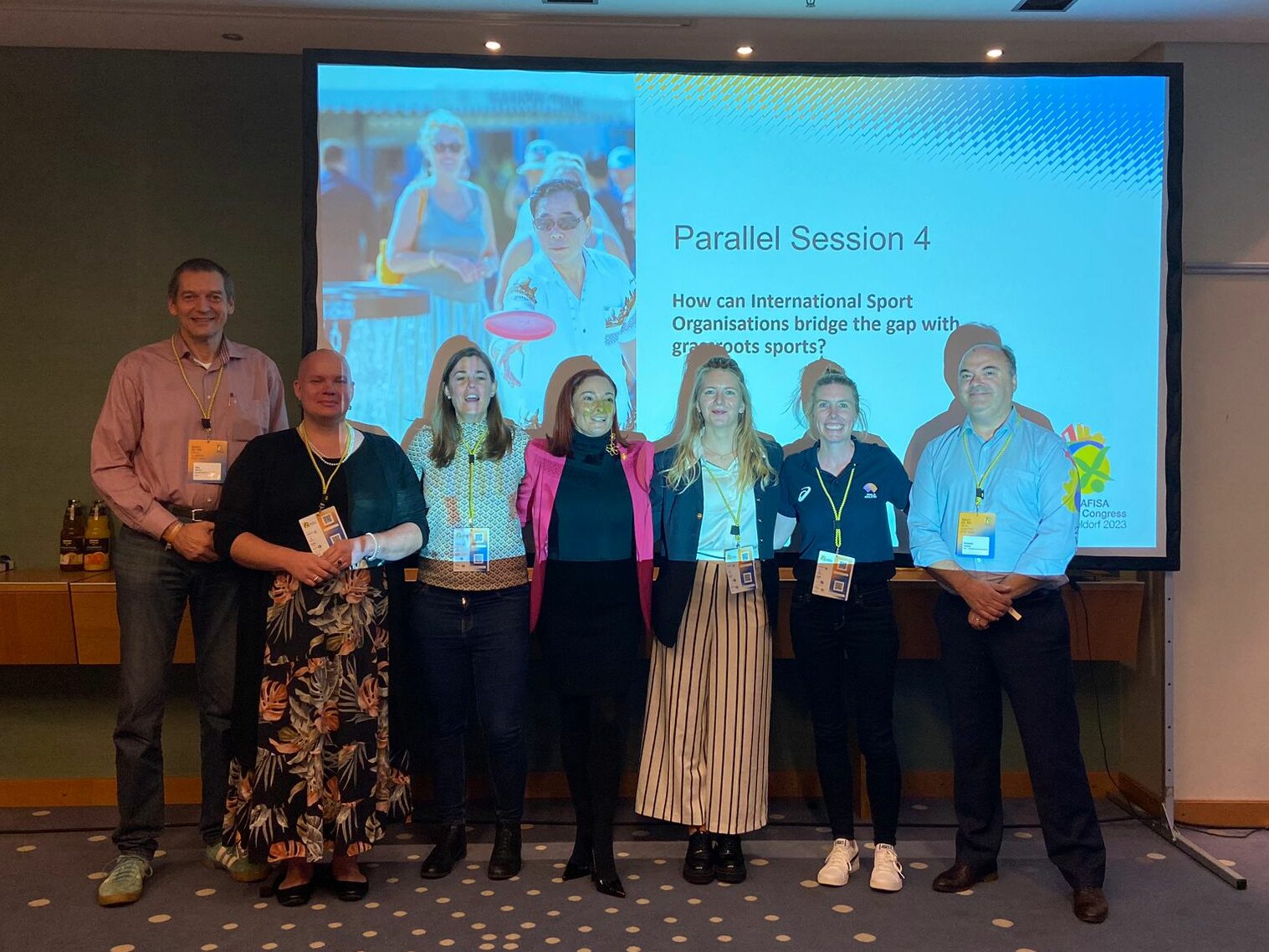 Among others Jörg Benner, EFDF S4A Advisor, presented the S4A potentials of Ultimate Frisbee. The conditions for a self-officiated team sport were presented with the rule 1.4 highlighting four of the five Spirit of the Game criteria. Furthermore, strategic goals of International Flying Disc Federations were put into relation to the need to ensure that the key elements of the SOTG conception are taught and communicated properly and also serve as through pass for further structuring our organisations.